Welcome!
Maltipoo Puppies for Sale
     We are a Maltipoo breeder 
    in Georgia with healthy,loving,
       happy Maltipoo Puppies.
Find your new adorable Maltipoo puppy here at Sherry's Maltipoos we offer adorable Maltipoo Puppies for families looking for a friendly and sociable puppy. They start interacting with us very early in age about three weeks old they start giving us puppy kisses and waggin their little tails. Maltipoos are very sweet and lovable they have great personalities that make them very special they love attention, extremely smart, learn quick and easy to train. Maltipoos adapt well to seniors, single people, kids and families and also smaller living spaces they make a great travel companion. We have a great selection of Maltipoo Puppies For Sale please visit our Available Puppies page to see if we have any of our adorable Maltipoos for sale. We specialize in Toy Maltipoo Puppies. Our goal is to raise and  help you find a healthy, happy, loving, smart and well socialized Maltipoo Puppy for families looking for a wonderful lovable affectionate family pet.  
We raise several designer dogs. We sell beautiful Designer Maltipoos and Designer Cockapoos. We specialize in 1st generation Maltipoos which is a Maltese and Poodle mix. Either one of these designer dogs a Maltipoo or Cockapoo would be a good choice for people that have allergies and would make you a great family pet. Our puppies are raised in our home under foot where they get the best possible care and we work closely with our vet to insure that all puppies are in excellent health to the best of our knowledge.We have Maltipoos in a variety of colors Red, Apricot, Black, Black and White, Cafe au Lait, Brown, Bronze, Cream, Gray, Silver, Silver Beige, Phantom and traditional White Maltipoos.
Looking for a Maltipoo? We have a great selection of Maltipoos for adoption throughout the year so you can purchase one of our cute Maltipoos today to be your companion for life. We sell first generation Maltipoos with champion bloodlines. If you are looking for a Maltipoo they make wonderful little lap dogs and love to cuddle for hours and will still your heart. They have the cutest little teddy bear face just adorable little puppies.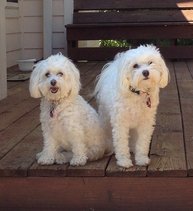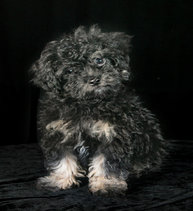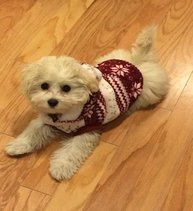 We are a reputable dog breeder of Maltipoos and Cockapoo Puppies. All Maltipoos are toy size puppies and Cockapoos are all miniature size puppies. We are dedicated Maltipoo Breeders in Georgia (Map).. You are always welcome to visit our home and meet our adult dogs and the Maltipoo Puppies. (By appointment only)
When you purchase a Maltipoo Puppy from Sherry's Maltipoos your new puppy will come to you being Crate Trained, Potty Training Started, Dew Claws will be removed by our veterinarian, Veterinarian Health Check at 6 weeks of age and their first set of puppy shots given, will provide Medical Records from our veterinarian, Health Guarantee, Age Appropriate Worming and registered with Continental Kennel Club. 

You will be very happy with one of our sweet and cuddly little poos, they will still your heart. Purchase a  Maltipoo today or from one of our up coming litters to be your companion for life. Your puppy is raised in a clean, comfortable, loving and nurturing home where they get plenty of love and attention. They are spoiled from the time they are born until they go home with you. We are proud of each and every one of our puppies.
We do accommodate our customers by meeting you at No Charge within 100 miles the weekend the puppies are ready to go. For more information on our deliveries please visit our Delivery Options page.
If you looking for a maltipoo or a cockapoo I have provide some information on the differences between the maltipoo and cockapoo breed please visit our About Maltipoos page. To find out more about the maltipoo breed please visit our Maltipoo Information page. If you are looking for a cockapoo visit our cockapoo web site at www.sherryscockapoos.com. 
We thank you for visiting us at Sherry's Maltipoos and considering one of our adorable babies. Please take the time to browse our website, which is full of information on Maltipoos, but if you find you still have questions, please contact us. We're always available to help. Feel free to inquire about the puppies or if you have any questions please e-mail us at This e-mail address is being protected from spambots. You need JavaScript enabled to view it or call me at 229-423-8158 (Home) or 229-457-4545 (Cell).
Who Owns A Maltipoo? A lot of Celebrities own a Maltipoo Miley Cyrus (Sophie), Jessica Simpson (Daisy), Kenny Chesney, Ashlee Simpson, Brook Burns, Ellen Degeneres (Wolf), Ashley Tisdale (Maui & Blondie), Michele Kwan, Blake Lively (Penny), Carmen Electra (Kiko), Vanessa Hudgens (Shadow), Rihanna (D J) and Heidi Montag. I have listed some of their pets names and this is just a few of the celebrities that own a maltipoo.
Sincerely,  Sherry & Jimmy

  April 17, 2015
We've discovered that there are many different ways to spell Maltipoo! We've found it written Malte-poo, Malti-poo, Maltepoo, MaltiPoo, Multipoo, Maltapoo, Multapoo, Multi-poo, Maltepoo and of course, Maltipoo, but they are all the same breed.